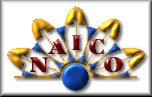 NAICO'S HISTORY

THE SENTRY

I had been thinking about this for years but didn't know just where to start. In March 1996 some of my friends were sitting around talking about the problems American Indian children were having both on and off the Reservation. As talk goes everyone had ideas to solve this situation. But no solutions.
We decided that we would like to start a non-profit organization. We knew there where many groups doing the same thing, but we had found out many of our donations in the past did not get where we wanted them to go. Not being able to afford a tax exempt status on our own. We contacted Dr. Wil Rose at American Indian Heritage Foundation. Dr Rose sent us an application for National Heritage Foundation. We applied and was accepted. So North American Indian Children's Organization was born on April 5, 1996.

This Organization is comprised of volunteers who receive no compensation for their work except the extreme happiness of having helped the children who are the hope for the future. We have found out through many of our friends the Elders are in need as well, so we have expanded our programs to include our elders. Without them our culture, history, language and traditions would be lost for all times.
After I got a computer things really "took off". I was able to reach a lot more people and get more contacts. On July 17, 1998 NAICO'S site was published on the web.
1999 was a busy year for NAICO. I moved from York, Pennsylvania to St. Augustine, Florida, where with the help of friends NAICO grew. We sent out 3 semi-truck loads to Eagle Butte, South Dakota.
Many thanks go to LANDSTAR trucking, and WAL-MART for suppling the trucks and drivers.
The year 2000 was not as good. I suffered some serious health problems, and after many months of silence I decided that if NAICO was to stay alive I needed to do something. On December 1, 2000, I took a leave of absence from my duties as president. I appointed Ms. Janet (Jan) Harvison as acting president.
I don't know just what the year 2001 will bring, but NAICO is still alive. She is much more than the dream I had years ago....she is a REALITY.
G. E. "Lone Eagle" Chaffin
Founder
With winter coming on, we are in desperate need for funds to enable us to ship donated clothing, blankets and many other items to the areas that are in need of them. If you wish to donate funds or items.
If you would prefer to ship direct. We can give you contact addresses. We are open for suggestions as we are a young organization.


NOW OUR BROTHERS AND SISTERS IN THE WILD NEED HELP.
| | | | |
| --- | --- | --- | --- |
| HALLWAY | EAGLES | WOLVES | BISON |
NA LINKS

Any questions concerning this site please contact me.