FIFTH GRADE CLASS in PA HELPS EASTER BUNNY.
YOUNG PEOPLE PREPARING BASKETS FOR
THE GREEN GRASS COMMUNITY
ON THE CHEYENNE RIVER SIOUX RESERVATION.
EAGLE BUTTE, SOUTH DAKOTA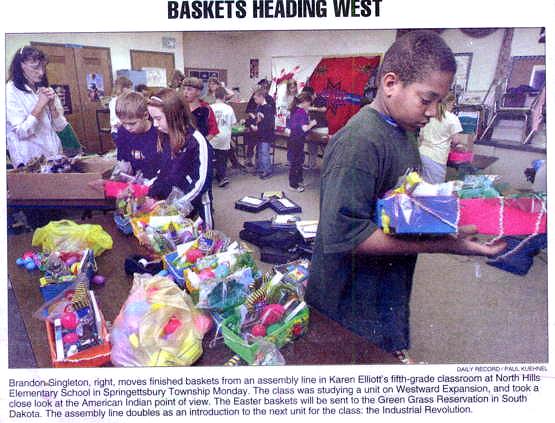 NAICO wishes to pat these children on the back, but most important we wish to give a SPECIAL THANK YOU to the TEACHER KAREN ELLIOT for we understand her classes have been doing this for 5 years. We belive she deserves a great big round of applause from all caring people.
KAREN, NAICO THANKS YOU AND LOVES YOU FOR YOUR CARING.

PLEASE CLICK ON ME.
I WILL RETURN YOU TO THE HALLWAY.